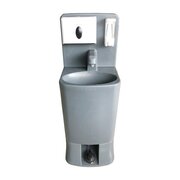 Portable Hand Washing Station
IN STOCK NOW!!!!!!!
Easy to use, HANDS-FREE, foot pump action hand sink! Makes for easy compliance with the current handwashing protocols.
Features:
Foot pump allows for hands-free cleaning, making it more user friendly.
Dual sided hand sink - allows 2 people to wash their hands at the same time.
Lower unit sumped drain plug allows for easy draining and cleaning.
Liquid Soap Dispenser and Paper Towel Dispenser included.
"Quick Fill Port" Easy plug removal with no tools required.
22.5 gallon freshwater tank lasts estimated appx.- 1,400 pumps of water.
*IN STOCK READY TO SHIP*
CALL NOW TO PLACE ORDER!!!
Height - 4.2 ft (54 in.)Width - 1.5ft (18.5 in.)
Length - 2.5 ft (31.5 in.)
Fresh Water - 22.5 gallons (85L)
Gray/Waste Water - 24 gallons (90L)
Color - Gray
Empty Weight - 75 lbs.